★★★★★ Merværdien af: 


"DENMARK FISHING LODGE GUIDING SERVICE":

Professionelle guider med mange års erfaring, vi er hele tiden på vandet, og vi kender vore fiskesteder rigtig godt. Vi giver gode råd både til fluefiskeri og spinfiskeri. Vi medbringer altid fluer, førstehjælpsmaterialer, fiskegrej, kamera og dit valg af varm kaffe eller the. Vi kombinerer expertise og venlighed i et perfekt mix.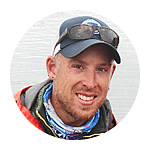 "Today "fishing guides" pop up from time to time. Certifications testifies to a guide professional focus and helps ensure the best fishing trip for you and your family. Our guides are the most certified of the country…but even certifications, today, doesn't guarantee the highest standard of professionalism.
An excellent fishing guide must have something extra: what we call the "6th sense" in fishing, and most important a high human sensitivity and the ability to adapt and meet the different needs of each individual guest."

Omar Gade – Head guide at Denmark Fishing Lodge
Mange af vore gæster vælger at bestille vore professionelle guider for at være "klædt godt på", når de skal ud og fiske på egen hånd!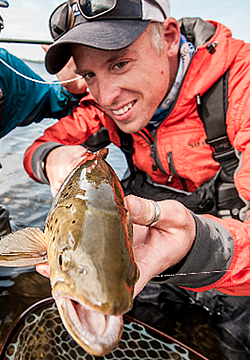 HEAD GUIDE: Omar Bo Gade
(Denmark Fishing Outdoor Lodge, Director & Head Guide)
"The greatest reward for me? The satisfaction in see a pleased and relaxed client after a long, sometimes hard, fishing day…hope to see you on the coast!"
Omar is an I.G.F.A certified Captain/Guide which testifies a high level of knowledge and professionalism. He is a fishing guide certified by the "Danish sport fishing association" and is a member and supporter of the "Federation of Fly Fishers Guides Association".


GUIDE: Jan Nachtigal
(Denmark Fishing & Outdoor Lodge staff member & Guide)
"Release back one of Fyn's beautiful sea trouts caught by one of our guest, is one of the magic moments I enjoy as a guide. Excited to share these moments with you in the future!"
Jan is a truly passionate fishermen and a very pleasant person always ready to welcome you with a smile. He became relatively early in his age a very skilled fly fishermen. He is fishing the danish coasts of Fyn since his childhood and today he is a real sea trout fishing expert. Borned in Germany, he fished all over the world travelling with his fly rod and his backpack. He came at our lodge as a client in 2013..but very soon became an integral part of our staff. Today he works daily at our Lodge and he is one of the best guides we have here of Fyn.
Photo: @ahrexhooks

1 HEL DAG
✔ 8 timer – max. 4 personer
✔ inkluderer frokost
(De samlede omkostninger skal deles mellem deltagerne)
1 HALV DAG
✔ 4 timer – max. 4 personer
✔ inkluderer ikke frokost
(De samlede omkostninger skal deles mellem deltagerne)